The process of creating a new website can seem daunting, especially if you have little experience with coding. One solution is to use a page builder like Elementor (or its Pro version) to quickly design your site and fully customize it.
If you go this route, however, you'll also want a free WordPress theme that integrates seamlessly with your chosen plugin.
Whether you want to create a beautiful blog or an ecommerce site (with Woocommerce, for example) you'll find something you like with the themes below.
Let's see 10 of the best free Elementor themes!
What are the top 10 free themes to use with Elementor in 2021?
1. Astra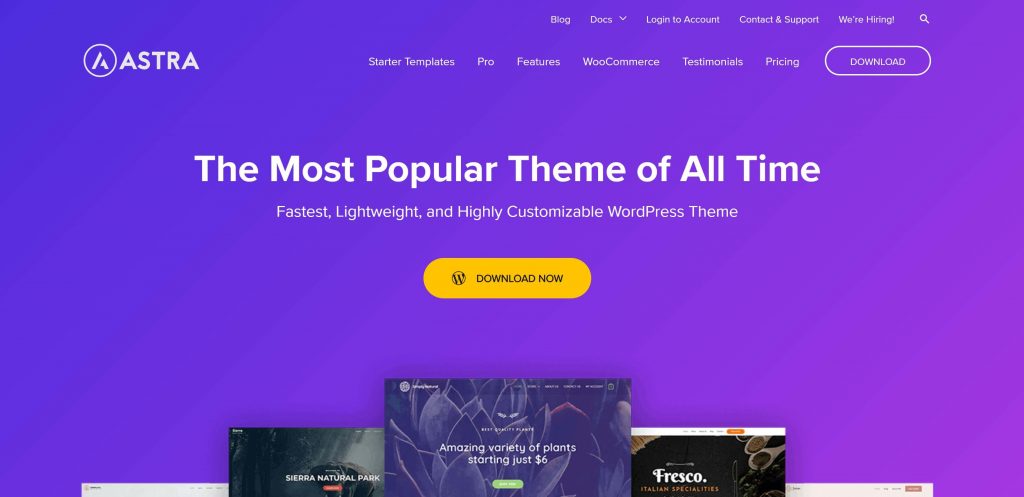 Astra is one of the most popular themes for people who make a living creating sites with Elementor.
It's so tightly integrated with Elementor that the Astra team even has an entire homepage explaining why Astra is a great Elementor theme.
First of all, Astra gives you detailed control over the layout of every article, page or custom article type on your site. For each content item, you can choose to
use the global default values
change the width of your content
disable sidebars (or even add an extra sidebar!)
disable your article title, header and/or footer.
Astra also has detailed styles in the WordPress Customizer that allow you to globally control the style of your Elementor designs. You can even add global styles for the buttons that appear in your Elementor designs, which is pretty handy.
And finally, at less than 50KB and without jQuery, Astra is well optimized for performance.
GeneratePress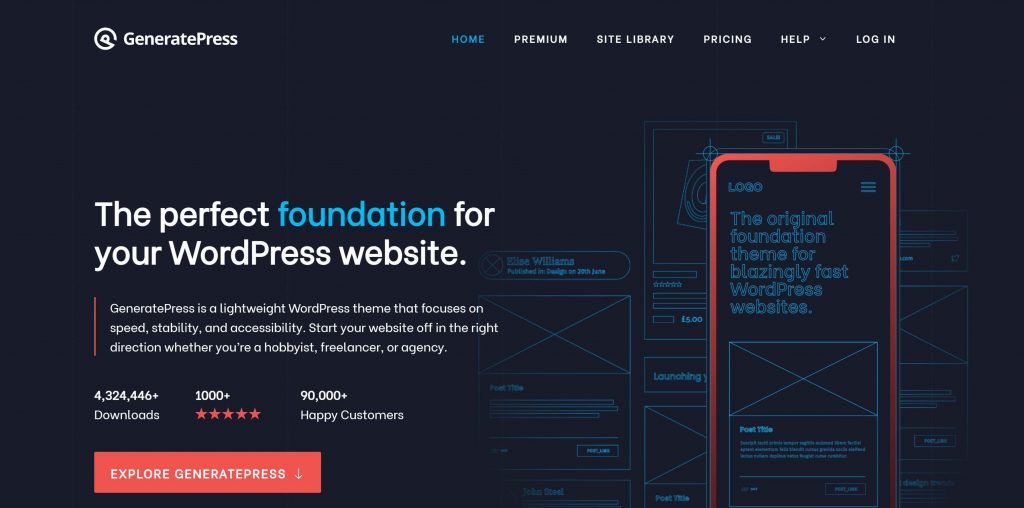 The GeneratePress theme prides itself on its high standards of coding and accessibility. This keeps it stable and secure, while ensuring that almost anyone can navigate your site.
Main Features:
Includes layout controls to customize fill, margins, sidebars, etc.
Provides access to over 10 Elementor optimized demos
Provides an SEO edge with high page speeds
The combination of GeneratePress' layout controls with Elementor allows you to customize every single desktop and mobile page on your site. This simplifies the process of creating a responsive site that adapts well to any device on which it is viewed.
Price: Free on WordPress.org, but I recommend the $39.95 GP Premium option because it offers more styling controls and functionality.
OceanWP is a very popular option. It is scalable enough to work well for both small and large sites. Plus, it offers unique Elementor widgets to give your page builder an extra boost and speed up site creation.
Key Features:
Provides over 60 demos to base your site on
Includes easy WooCommerce integration for online retailers
Offers fast page load times and built-in SEO
OceanWP's Elementor widgets will mean smooth navigation when it comes to creating layouts and content. They make it easy to add functionality to your blog posts, image displays and even your WooCommerce store.
And if you don't want to build your Elementor site from scratch, OceanWP also includes pre-built Elementor-based demo sites that you can easily import, just like these other two themes.
Pricing: Free version and premium lincense for 1 site costs $39.
Hestia stands out from most of the previous options in that it doesn't have such a generic look. Instead, it uses a modern material design style that fits perfectly with the content you create with Elementor, which is why Hestia is on the official list of Elementor recommended themes.
While it doesn't give you as much control at the page level, it does include some dedicated page templates that work perfectly with Elementor. For example, you can use
The normal template
A full width template
A 100% blank template (much like the Elementor Canvas template).
In addition to these features, it
Supports WooCommerce
Offers a neat layout for the homepage
Uses the WordPress Customizer to control the style.
Price: Free on WordPress.org, or $89 for Hestia Pro.
5. Elementor Hello Theme
Hello Theme is the official Elementor theme, designed to be used with Elementor Pro's theme creation feature.
This free theme is completely stripped down. In fact, it removes everything that is not necessary so that you get the lightest possible base for your Elementor Pro theme designs.
This theme is a great option, but only if you use the Elementor Pro theme builder to build your entire site.
Price: Free